Whatsapp
(FESSA DISTRIBUTION) Ada yang ditanyakan?
Klik untuk chat dengan customer support kami
DELL JAKARTA
● online
+62818822655
LENOVO JAKARTA
● online
+6281311712698
DELL JAKARTA
● online
Halo, perkenalkan saya
DELL JAKARTA
baru saja
Ada yang bisa saya bantu?
baru saja
Buka jam 10.00 s/d jam 18.00 , Sabtu Jam 11.00 s/d 16.00 , Minggu dan Hari Besar Libur
Info DELL JAKARTA : 0818-822-655(WA)
Info LENOVO JAKARTA : 0813-1171-2698(WA)
Alienware M15 Ryzen R7 5800H 32GB 1TB SSD RTX 3070 8GB 3 Years + ACD
Rp 30.000.000
Rp 46.900.000
Hemat Rp 16.900.000
Alienware M15 Ryzen R7 5800H 32GB 1TB SSD RTX 3070 8GB AW510H HEADSET  AW610M Mouse Office HS 2019 Windows 10 Home SL 3 Years Warranty  + ACD (Accidental Damage Protection)
Info : 0818-822-655(WA)
Specification / Spesifikasi :
Dell Alienware M15
Processor : AMD Processor Ryzen 7 5800U Up To 4.4 GHz, 8 Core
Display : 15.6-inch FHD (1920 x 1080) Anti-glare LED Backlight Non-Touch
Memory : 32GB, DDR4, 3200MHz
Storage : M.2 1TB PCIe NVMe SSD
Battery  : 6-Cell Battery, 86WHr (Integrated)
VGA : NVIDIA RTX 3070 8GB
Killer Wi-Fi 6 AX1650 802.11ax 2x2 Wireless LAN and Bluetooth 5.2
Office :  Home And Student 2019
OS : Windows 10 Home Single Language
Accesories : AW510H 7.1 Gaming Headset + AW610M Gaming Mouse
Colour : Black, Weight : 2.11kg
BAG : Backpack Alienware
Warranty : 3 Years Onsite Service (3/3/3) With Accidental Damage
Tentukan pilihan yang tersedia!
Alienware M15 Ryzen R7 5800H 32GB 1TB SSD RTX 3070 8GB 3 Years + ACD
Alienware M15 Ryzen R7 5800H 32GB 1TB SSD RTX 3070 8GB AW510H HEADSET  AW610M Mouse Office HS 2019 Windows 10 Home SL 3 Years Warranty  + ACD (Accidental Damage Protection)
Info : 0818-822-655(WA)
FEATURES & DESIGN
OPERATING SYSTEM
Available with Windows 11 Home or Windows 11 Pro:
 Gaming is better than ever on Windows 11, with games in 4K, DirectX 12 and gameplay streaming.
*
ENGINEERED FOR VISUAL SPEED
First place in speed: The Alienware m15 Ryzen™ Edition R5 gaming laptop is our first 15″ notebook to carry a 360Hz optional display.
Crystal-clear action: Whether you're gaming at your leisure or in the thick of battle, never miss any critical details thanks to smoother gameplay. A result of our deliberate engineering decisions, the latest m15 is incredibly fast starting from 165Hz. But we didn't stop there. The latest m15 offers NVIDIA® G-SYNC® technology to synchronize the refresh rate of your display with the performance your graphics card is capable of for smoother gameplay during high-speed action — available only on the optional FHD 360Hz*and QHD 240Hz panels.
SPEED TAILORED TO YOU
The Alienware m15 Ryzen Edition R5 is engineered to offer variety. Whatever your gaming needs are, this laptop is here to not only meet them, but exceed them by raising the standard for display technologies.
Fast is a given: The latest m15 R5 comes standard with an impressive refresh rate of 165Hz. Plus, an FHD resolution with the comfort of reduced blue light emissions keep you deep in the game without reducing image quality.
Uninterrupted gaming: Speed was the goal; better gaming is the result. A 240Hz configuration increases the resolution to QHD which leads to an incredible amount of pixels at an exceptionally fast refresh rate to ensure your games look great and feel smooth.
Our fastest refresh rate: We didn't stop until we accomplished the previously impossible. Experience our fastest display option on a 15″ gaming laptop, now set at 360Hz. Available in FHD resolution, this refresh rate is perfect for experiencing the latest games and viewing your favorite movies in a resolution beyond the requisite of 1080p.
Optimize your view: With the goal of smooth gameplay in mind, the 240Hz and 360Hz panel options also support NVIDIA's G-SYNC technology which is intended for a better handshake between the refresh rate of your display and the refresh rate that your GPU is capable of providing.
Windows Hello: Get your mission started sooner with a password that's as personal as it gets using the newly added Windows Hello facial recognition—available with QHD 240Hz or FHD 360Hz panels*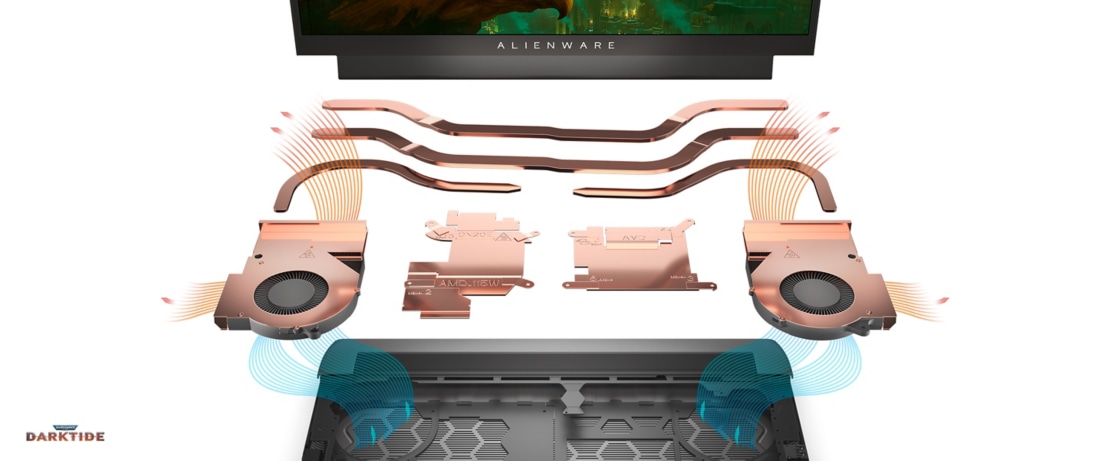 KEEP YOUR COOL WITH ALIENWARE CRYO-TECH™
To us design is more than just mechanics, it's art. Alienware Cryo-Tech™ Cooling Technology is an engineering approach that doesn't compromise your system's gaming performance by means of electrical and mechanical methods, and instead maintains your system's stability even during the most intense gaming moments.
Dense copper module: The new m15 carries four independent copper heat-pipes, unifying the copper surfaces in contact with the CPU, GPU, and fan assemblies, providing heat dissipation across these core components.

Consider your thermals, managed: Gamers can adjust their power settings across one of five unique fan profiles—in our Alienware Command Center software—according to whether performance or battery life are prioritized with various options in between.
Airflow at its finest: Our new m15 R5 chassis prioritizes performance with a dual fan design that pulls in cool air from the top and bottom vents, and exhales exhaust out the left, right, and rear vents for optimal cooling of the core components.
Load balancing heat pipes: The dynamics of thermal activity across critical components like the GPU and the CPU are intelligently discharged across four copper composite heat pipes of up to 3mm in diameter.
PACKED WITH POWER
Say hello to ultimate performance: AMD Ryzen™ 5000 Series mobile processors make their debut on the latest Alienware m15. They include 8-cores, 16-threads and up to 20MB of cache all focused on delivering high performance across your favorite games and applications.
Prepared to game: The new Alienware m15 Ryzen Edition laptop combines AMD® Ryzen processors with NVIDIA® GeForce RTX™ 30-series graphics. Some of the amazing benefits that push performance from the new NVIDIA® series include Dynamic Boost 2.0 and Deep Learning Super Sampling (DLSS) technology. New AI-powered Dynamic Boost 2.0 automatically delivers the needed power between the GPU, GPU memory, and CPU for a larger performance boost than ever before. The AI networks in Dynamic Boost 2.0 manage power on a per-frame basis, so your m15 is constantly optimizing for maximum performance while you're gaming and creating. NVIDIA® DLSS delivers a massive performance boost at the same power by using the Tensor Cores to do groundbreaking AI rendering.
Jam-packed with memory: Alienware m15 R5 introduces DDR4 3200Mhz memory to Alienware 15″ laptops taking your mega-tasking abilities to a new level. This m15 even lets gamers upgrade their memory post-purchase, using the two available SODIMM slots.
KEY INTO SUPERIOR GAMING
True gamers keyboard: The incredibly responsive keyboard features 1.8mm travel with standard 4-zone RGB N-Key rollover and anti-ghosting technology.
More options, more wins: Alienware's exclusive ultra-low profile truly mechanical laptop keyboard offers the opportunity to extend your senses into next-level immersion. Experience real mechanical key switch design and architecture that's exceptionally tactile and audile.
CODEVELOPED WITH CHERRY
Designed to be premium: This optional keyboard includes German engineered stainless-steel switches, constructed with a gold-plated electrical contact enclosure which ensures that keys* on the keyboard feel exactly the same. Additionally, you can type at your leisure with an assurance against failure and up to a 15 million keystroke lifecycle.
Feel the difference: Experience uniformly smooth travel no matter if you hit the key center or off center thanks to the mechanical design within the anatomy of each key's switch. This technology delivers an anti-wobble feel with an increased total key travel of 1.8mm.
AN EVOLUTION HAS ARRIVED
We took the purely geometric balance and blended bone lines on our renowned Legend industrial design and reached it to new heights. Experience a new dark core feature that removes distractions and provides an aesthetically pleasing side profile to hide all of the ports, holes and vents. Plus, an innovative, modified extrusion makes our design that much more seamless, and our stain-resistant paint design just got even more captivating thanks to a new silky-smooth finish
LIGHT IT UP
Personalize your gaming session with AlienFX. Its fully customizable lighting system is engineered to bring you closer to the worlds you play in, with dynamic lighting effects tied directly to the in-game action and full RGB values.
ALIENWARE COMMAND CENTER
The Alienware Command Center is continuously updated. Our latest version now includes features specifically desired by the gaming community with auto-tuned game profiles, a new responsive UI, intuitive overclocking options and all-new AlienFX settings.
CREATIVE CONTROL
Create profiles designated for power, thermal management, sound, lighting, macros, and more. Link a profile to a game and its settings will automatically apply whenever the game is launched, no matter where it's launched from.
TAILORED POWER STATES
Access uniquely defined power management modes that are tailored for difference scenarios, with CPU prioritization in Balanced Mode, and GPU prioritization in Performance Mode.
ENHANCED ALIENFX
The latest AlienFX hardware and software supports full RGB values with up to 16.8 million colors. Easily manage your FX lighting zones, edit peripheral settings and save new themes you can then assign for each game.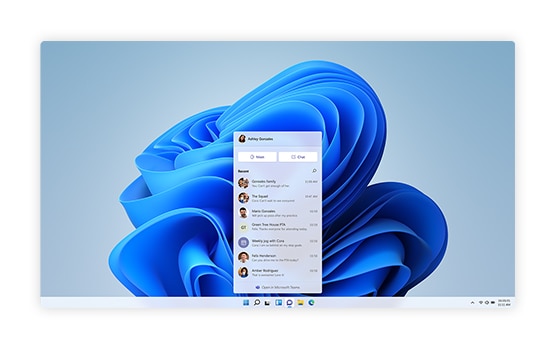 THEIR LATEST. OUR GREATEST.
Dynamic doesn't begin to describe this duo. Together, Windows 11 and Dell PCs create a best-in-class experience.
A fresh perspective
An inspiring new look and feel makes for a calmer experience.
Balance your life
Refocus your workflow with snap assistant. Or Switch between desktops for greater organization of open windows.
Life's better together
Call, chat, and make plans come to life with Teams on Windows 11* right from your PC regardless of what computer or phone or tablet they are on.*
PORTS & SLOTS
1. 2x SuperSpeed USB 3.2 Gen 1 Type A ports| 2. SuperSpeed USB 3.2 Gen 2 Type C port | 3. SuperSpeed USB 3.2 Gen 1 Type A port | 4. HDMI 2.1 Output | 5. Power DC In C port | 6. 2.5 Gbps rated RJ-45 Ethernet port| 7. Global Headset jack
Alienware M15 Jakarta – Alienware M15 Indonesia
DELL Store Jakarta – DELL Jakarta – DELL Indonesia
Info : 0818-822-655(WA) email : sales1@fessadistribution.com
Tags: Alienware, Alienware Indonesia, Alienware Jakarta, Alienware M15, Alienware M15 Indonesia, Alienware M15 Jakarta, DELL Indonesia, DELL Jakarta, DELL Official Jakarta, DELL Resmi Jakarta, DELL Store jakarta
Alienware M15 Ryzen R7 5800H 32GB 1TB SSD RTX 3070 8GB 3 Years + ACD
| | |
| --- | --- |
| Berat | 15000 gram |
| Kondisi | Baru |
| Dilihat | 692 kali |
| Diskusi | Belum ada komentar |