Whatsapp
(FESSA DISTRIBUTION) Ada yang ditanyakan?
Klik untuk chat dengan customer support kami
DELL JAKARTA
● online
+62818822655
LENOVO JAKARTA
● online
+6281311712698
DELL JAKARTA
● online
Halo, perkenalkan saya
DELL JAKARTA
baru saja
Ada yang bisa saya bantu?
baru saja
Buka jam 10.00 s/d jam 18.00 , Sabtu Jam 11.00 s/d 16.00 , Minggu dan Hari Besar Libur
Info DELL JAKARTA : 0818-822-655(WA)
Info LENOVO JAKARTA : 0813-1171-2698(WA)
DELL BUSINESS DOCKING – WD15 with 180Watt Adapter
DELL BUSINESS DOCKING – WD15 with 180Watt Adapter
Single Cable Connectivity
Featuring a powerful DisplayPort over USB Type-C cable, with the Dell Dock you can quickly connect your laptop or tablet to a single data and power source up to 130W for Dell devices and 60W for non-Dell devices. You'll also enjoy an easy, reliable connection from your laptop or tablet to dual FHD displays or a single 4k display @ 30Hz, and all your essential peripherals.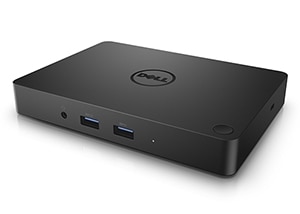 ---
Small Footprint and Big Flexibility
The Dell Dock is small in size-just 6.1 x 4.3 x .83 inches (15.49 x 10.92 x 2.11 cm)-and has one single cable. Place it anywhere you want to work-in your traditional office workspace, a hot desk or a conference room-even if space is limited.
---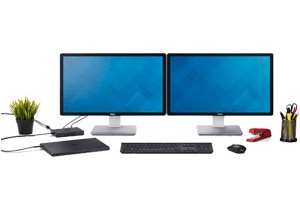 One dock for all
The Dell Dock is compatible with select Dell laptops, workstations, tablets and many compatible non-Dell devices with USB-Type C port(s) having data, video, and power capabilities. Easily connect to displays, a mouse, keyboard and audio devices through the Dell Dock from your compatible system of choice.
---
Connect for collaboration
Grab your laptop and head to the next meeting where you, and your co-workers, will be able to quickly connect to the Dell Dock and share your latest PowerPoint presentation through a connected display screen or projector.
---
Enhanced video performance
USB Type-C connectivity is the latest and extremely reliable technology for video performance. Your display will be crisp and clear.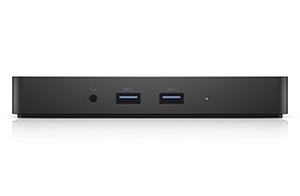 ---
Connections and Features
Supports 2 FHD displays
Two USB 2.0 ports
Three USB 3.0 ports
Speaker output (rear)
Combo audio (front)
Gigabit Ethernet
Kensington Lock Slot
180W AC adapter with 7.4mm barrel
---
What's in the box
Dell Dock
DisplayPort over USB Type-C Cable
180W AC adapter with 7.4 mm barrel
Quick Setup Guide
Compatibility
This product is compatible with the following systems:
XPS 13 (9350)
XPS 15 (9550)
Precision 15 7000 Series (7510)
Precision 17 7000 Series (7710)
Precision 15 3000 Series (3510)
Precision 15 5000 Series (5510)
Latitude E5570
Latitude 7275
Latitude 11 (5175)
Latitude 11 (5179)
Latitude 7370
A system requiring more than 130 Watts must have its own power adapter attached
Latitude 5280
Latitude 5480
Latitude 5580
XPS 9560
Precision 5520
Latitude 7280
Precision 3520
Latitude 7480
Latitude 5285
Precision 15 7000 Series (7520)
Latitude 5289
Latitude 7285
Latitude 7380
Latitude 7389
Precision 17 7000 Series (7720)
DELL Jakarta – DELl Indonesia
Tags: DELL Business Docking WD15, DELL Docking WD15, DELL WD15, DELl WD15 Jakarta
DELL BUSINESS DOCKING – WD15 with 180Watt Adapter
| | |
| --- | --- |
| Berat | 1500 gram |
| Kondisi | Baru |
| Dilihat | 1.709 kali |
| Diskusi | Belum ada komentar |