Whatsapp
(FESSA DISTRIBUTION) Ada yang ditanyakan?
Klik untuk chat dengan customer support kami
DELL JAKARTA
● online
+62818822655
LENOVO JAKARTA
● online
+6281311712698
DELL JAKARTA
● online
Halo, perkenalkan saya
DELL JAKARTA
baru saja
Ada yang bisa saya bantu?
baru saja
Buka jam 10.00 s/d jam 18.00 , Sabtu Jam 11.00 s/d 16.00 , Minggu dan Hari Besar Libur
Info DELL JAKARTA : 0818-822-655(WA)
Info LENOVO JAKARTA : 0813-1171-2698(WA)
DELL G5 Gaming 5090 i9-9900 32GB 512SSD + 2TB SATA RTX 2070 8GB WIN 10
DELL G5 Gaming 5090 i9-9900 32GB 512SSD + 2TB SATA RTX 2070 8GB WIN 10 LED 24″
Specification / Spesifikasi :
Dell Inspiron G5 5090 / i9 9900 / 32GB DDR4 / 512GB M.2 SSD + 2TB SATA / NVIDIA RTX 2070 8GB / WF + BT / USB Mouse + Keyboard / Windows 10 Home / MONITOR SE2417HGX / 1Yr Onsite Service (1/1/1)
Dell Gaming
Dell gaming machines are engineered with the specific, demanding needs of the gaming audience in mind. From the latest processors to powerful discrete graphics cards, they make every experience more intense and real.
---
Power that refuses to slow down
Kick performance into high gear: Engineered for up to 9th Gen Intel® Core™ i9 processors, the G5 gaming desktop possesses powerful performance and split-second responsiveness for uninterrupted gameplay.

VR-capable graphics: Built for easy expandability, the G5 supports up to the latest NVIDIA® GeForce® GTX and RTX or AMD graphics cards for high-powered gameplay and VR-capable performance.
Do more with more memory: Up to 32GB DDR4 2666 MHz RAM ensures overall advanced performance during intensive gaming.
Optimal cooling: The G5 stays cool during intense gaming sessions thanks to optimal airflow driven by a 65W or 95W CPU cooler, with a maximum system fan speed of 4500 rpm +/-450 and a flowrate of 45 cubic feet per minute (CFM) +/- 4.5. With four thermal mode options that can be set in the Alienware Command Center, you can adjust based on your needs whether gaming, working, studying or watching videos.
---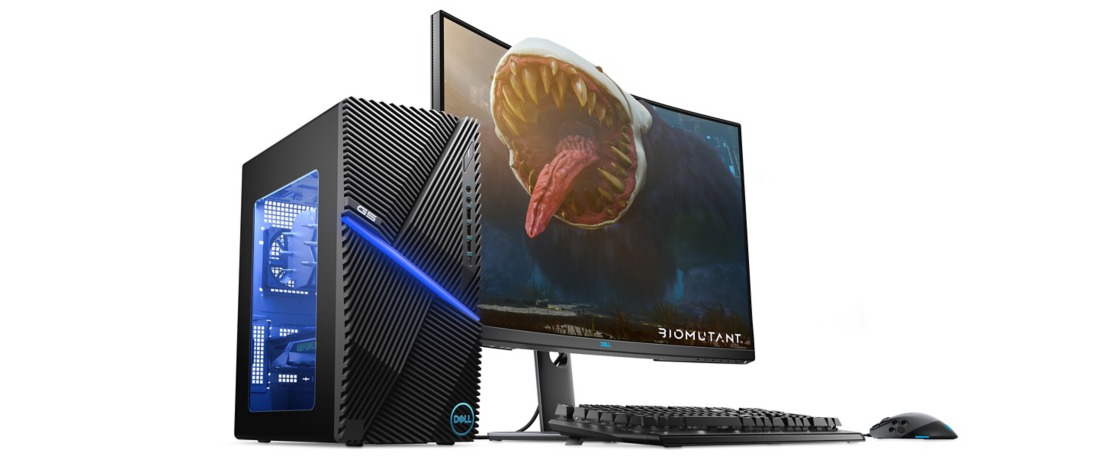 Built for a higher state of gaming
Conveniently compact: The surprisingly compact design takes up minimal space, making it easier to adjust your full gaming setup or transport your PC to LAN parties.
Unforgettable design: A distinctive, gamer-inspired design with blue bezel LED lighting and optional clear window side panel gives the G5 gaming desktop a dynamic look and feel that stands out among the crowd.
Full speed ahead: Killer Gigabit Ethernet + Killer Wireless ensures blazing-fast speed and smooth network traffic.
---
Enhance your game
Upgrades made easy: By loosening the two thumbscrews on the back of the system, you can easily remove the side panel to access the internals of the system and upgrade your CPU, GPU, memory and hard drives.
Supreme storage: Expand your storage capacity with three bays to accommodate additional hard drives, including one 3.5" bay and two 2.5" bays. An M.2 slot allows for additional SSD storage, as well.
---
Alienware Command Center on Dell G Series
Game better: We've crafted innovative software specifically designed to improve your gaming experience, fine-tune all your game and systems settings, solve problems and manage time.
Calibrate your controls: Now you have control over your hardware and software environments. Not only can you tailor the Alienware peripherals for each and every game you play, you can personalize the space and setup to make your software look and feel precisely the way you want it, without interfering with your gameplay or other activities.
Ace library science: The easy-to-use interface links all your various system settings with a gaming library, making it simple to access gaming information. No matter what the source, the command center gives you easy access to your games and the ability to fine-tune settings for each one. Create a unique game profile and it stays just how you want it, no matter where you launch.
---
Ports & Slots
1. Power button | 2. Microphone jack | 3. Headphone jack | 4. USB 2.0 (2) | 5. USB 3.0 | 6. USB 3.1 Type-C | 7. Center/subwoofer LFE surround port | 8. Side L/R surround port | 9. Front L/R surround port | 10. USB 3.1 (4) | 11. RJ45 Ethernet | 12. USB 2.0 (2) | 13. HDMI (number will depend on graphics card installed) | 14. Power-in
---
Dimensions & Weight
1. Height: 367 mm (14.45) | 2. Width: 169 mm (6.65) | 3. Depth: 308 mm (12.12) | Starting Weight: 8.43 kg (18.58 lb)
DELL G5 Gaming 5090 Desktop Jakarta – DELL G5 Gaming 5090 Desktop Indonesia
DELL Store Jakarta
DELL Jakarta – DELL Indonesia
Info : 0818.822.655 (WA) email : sales1@fessadistribution.com
Tags: DELL Distributor, DELL G5, DELL G5 5090, DELL G5 5090 Jakarta, DELL G5 Gaming, DELL G5 Gaming 5090, DELL G5 Gaming 5090 Jakarta, DELL G5 Gaming Jakarta, DELL G5 Jakarta, DELL Gaming, DELL i9, DELL Indonesia, DELL Jakarta, DELL Resmi, DELL Store jakarta, Jual DELL Gaming, Jual DELL PC
DELL G5 Gaming 5090 i9-9900 32GB 512SSD + 2TB SATA RTX 2070 8GB WIN 10
| | |
| --- | --- |
| Berat | 19000 gram |
| Kondisi | Baru |
| Dilihat | 1.048 kali |
| Diskusi | Belum ada komentar |