Whatsapp
(FESSA DISTRIBUTION) Ada yang ditanyakan?
Klik untuk chat dengan customer support kami
DELL JAKARTA
● online
+62818822655
LENOVO JAKARTA
● online
+6281311712698
DELL JAKARTA
● online
Halo, perkenalkan saya
DELL JAKARTA
baru saja
Ada yang bisa saya bantu?
baru saja
Buka jam 10.00 s/d jam 18.00 , Sabtu Jam 11.00 s/d 16.00 , Minggu dan Hari Besar Libur
Info DELL JAKARTA : 0818-822-655(WA)
Info LENOVO JAKARTA : 0813-1171-2698(WA)
DELL Optiplex 3090 SFF i5-10505 4GB 1TB LED 18.5Inch Win 11 Home – Business PC
DELL Optiplex 3090 SFF i5-10505 4GB 1TB LED 18.5Inch Win 11 Home – Business PC
Info : 0818-822-655(WA)
Specification / Spesifikasi :
Dell Optiplex 3090SFF – i5-10505, 3.20 GHz Up To 4.60 GHz ,12Mb Cache, 6 Core,4GB DDR4 2666MHz
1TB SATA 3.5″,DVDRW Optical Drive,Windows 11 Home, Intel HD Graphics,Dell 18.5″ E1920H Monitor,Dell Keyboard KB216 + Mouse USB MS116,Warranty 1 Year Pro Support Onsite Service (1/1/1)
Features
Operating System
Available with Windows 11 or Windows 10.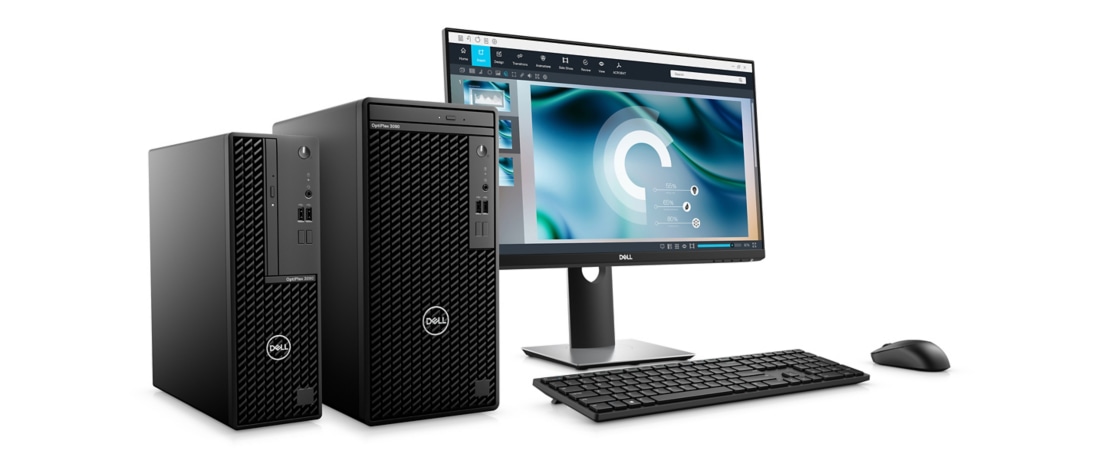 Work smart
Flexible configurations: Embrace productivity features at the same affordable price you've come to expect. With multiple form factors, you'll find a desktop that works perfectly within your workspace.
Stay Cool: Utilizing the shift venting pattern, the 3090 maximizes air intake to keep your system temperature down.
Small size, small upkeep: Easy access to parts without removing front bezel delivers simplified maintenance with its toolless features.
Uncompromising productivity
Power through your work: Built with 10th Generation Intel® Core™ i3 or i5 processors for uncompromising performance and up to 16GB DDR4 RAM.
Next-Gen graphics: Tackle the most graphically demanding workloads with the latest NVIDIA and AMD discrete graphics.
High Connectivity: Connect with ease with 2 native DisplayPorts, and optional VGA, HDMI 2.0b, or 3rd DisplayPort.
Modernize your experience with Dell Technologies Unified Workspace
Dell Technologies Unified Workspace is the gold standard approach to helping you achieve a modernized endpoint environment and deliver an optimized end user experience. Dell's software and services solutions integrate with current endpoint environments and provide enhanced efficiencies, actionable insights and an optimized experience across deployment, security, management and support.
Gains from implementing Dell Technologies Unified Workspace offset hardware and IT costs*
• Modern factory provisioning and reduce deployment time by 50%*
• Comprehensive endpoint security above and below the OS
• Unified management from one console of your choice
• Predictive, proactive support to reduce support calls by up to 46%* and resolve issues 6x faster*

Windows 11 Pro – designed for hybrid work.
The most productive and secure version of Windows yet—but simple for IT.
Learn More
Ports & Slots
Small Form-Factor
1. Power Button
2. Optical Drive (Optional)
3. Universal Audio Jack
4. 2 x USB2.0 Ports
5. Line-In/out
6. 2 x Display Ports
7. 4 x USB3.2 Gen1 Type-A Ports
8. 2 x USB2.0 Ports, with Smart Power on
9. RJ-45 Port
10. Tool-less latch
11. Optional Port: VGA/DP1.4/HDMI 2.0
12. Optional Serial/PS2 Port
13. K-lock
14. Knock-out Slots for Wireless Antenna
15. PCIe x1 Slot
16. PCIe x16 Slot
17. Power Connection
18. Padlock loop
19. Power indicator light
Ports & Slots
Tower

1. Optical Drive (Optional)
2. Power Button
3. Universal Audio Jack
4. 2 x USB2.0 Ports
5. Line-In/out
6. 2 x Display Ports
7. 4 x USB3.2 Gen1 Type-A Ports
8. 2 x USB2.0 Ports, with Smart Power on
9. Thumbscrew
10. Optional Port: VGA/DP1.4/HDMI 2.0
11. Optional Serial/PS2 Port
12. RJ-45 Port
13. PCIe x1 Slot
14. PCIe x1 Slot
15. PCIe x16 Slot
16. Power Connection
17. Thumbscrew
18. External Wireless Antenna jack
19. Power indicator light
DELL Store Jakarta – DELL Jakarta – DELL Indonesia
DELL Optiplex 3090 SFF – DELL Optiplex 3090 SFF Jakarta – DELL Optiplex 3090 SFF Indonesia Business PC
Info : 0818-822-655(WA) Info : sales1@fessadistribution.com
Tags: Business PC, Business PC Jakarta, DELL 3090 SFF, DELL 3090 SFF Indonesia, DELL 3090 SFF Jakarta, DELL Indonesia, DELL Jakarta, DELL Official Jakarta, DELL Optiplex, DELL Optiplex 3090, DELL Optiplex 3090 Indonesia, DELL Optiplex 3090 Jakarta, DELL Optiplex 3090 SFF, DELL Optiplex 3090 SFF Indonesia, DELL Optiplex 3090 SFF Jakarta, DELL Optiplex Indonesia, DELL Optiplex Jakarta, DELL Resmi Jakarta, DELL Store jakarta
DELL Optiplex 3090 SFF i5-10505 4GB 1TB LED 18.5Inch Win 11 Home – Business PC
| | |
| --- | --- |
| Berat | 23000 gram |
| Kondisi | Baru |
| Dilihat | 868 kali |
| Diskusi | Belum ada komentar |