Whatsapp
(FESSA DISTRIBUTION) Ada yang ditanyakan?
Klik untuk chat dengan customer support kami
DELL JAKARTA
● online
+62818822655
LENOVO JAKARTA
● online
+6281311712698
DELL JAKARTA
● online
Halo, perkenalkan saya
DELL JAKARTA
baru saja
Ada yang bisa saya bantu?
baru saja
Buka jam 10.00 s/d jam 18.00 , Sabtu Jam 11.00 s/d 16.00 , Minggu dan Hari Besar Libur
Info DELL JAKARTA : 0818-822-655(WA)
Info LENOVO JAKARTA : 0813-1171-2698(WA)
DELL Optiplex 7060MT i7-8700 8GB 2TB AMD RX 550 4GB LED 21.5 Windows 10 PRO
DELL Optiplex 7060MT i7-8700 8GB 2TB AMD RX 550 4GB LED 21.5 Windows 10 PRO
Specification :
Optiplex 7060MT Intel(R) Core(TM) i7-8700 Processor , 8GB DDR4 , Intel® Q270 Chipset, 2TB 7200RPM SATA HDD, AMD RX 550 4GB , Dell Keyboard + Mouse, 16x Max DVD+/-RW Drive, Ethernet LAN 10/100/1000 , Microsoft® Windows(R) 10 Profesional 64 Bit, DELL LCD 21.5″ Widescreen With LED , 3Yr ProSupport: NBD Onsite Service
Operating System
Available with Windows 10 Pro – for a smooth, versatile PC experience.
---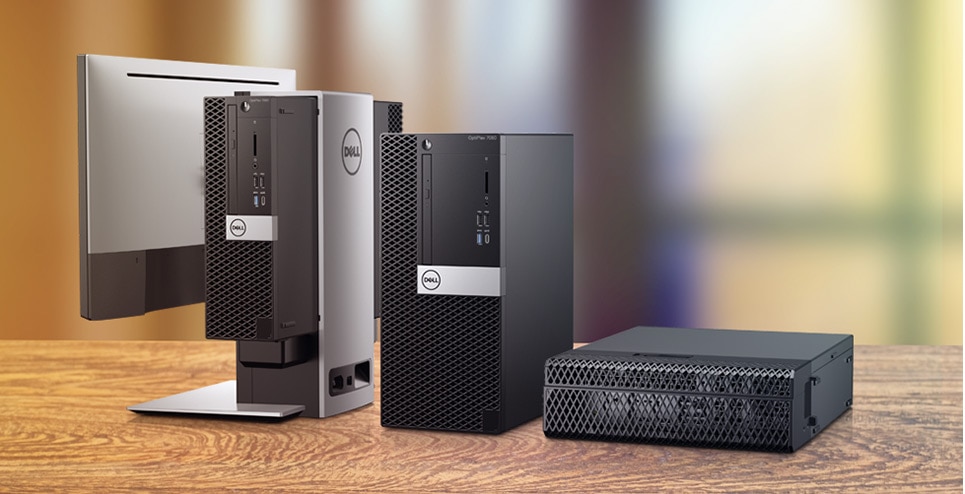 The desktop reimagined
OptiPlex has 25 years of experience delivering customer-led innovation for desktops by continuously adapting to the way you work. Now featuring versatile, space-saving form factors and 8th generation Intel® Processors to unleash your full potential.
---
Fit for any setting
Versatile and flexible: The OptiPlex 7060 has an adaptable, compact design that allows you to maximize your environment by conveniently fitting into your workspace. Add the optional Small Form Factor All-in-One Stand with a cable cover for a clutter-free work environment.
Built responsibly: Premium materials and recycled plastics mean your OptiPlex 7060 is designed with the environment in mind.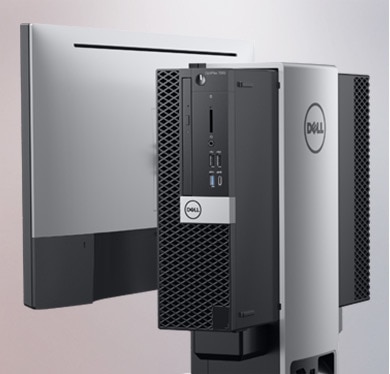 ---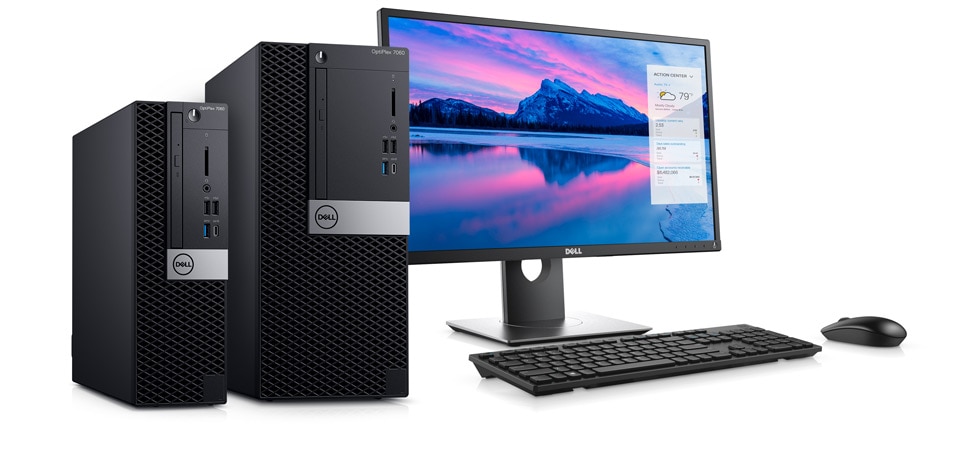 Unleash your productivity
Powerful performance: 8th generation Intel® Core™ Processors and up to 64GB of 2666MHz DDR4 memory drive your workday like never before.

Boot up faster than ever: Enjoy the fastest boot and data access times with an M.2 PCIe NVMe drive. Optional Intel® Optane™ Memory turns even the smallest, routine tasks into huge productivity gains, launching browsers and opening files faster and smoother than ever.

Ready to work: Your OptiPlex desktop supports up to three displays without the need for additional graphics cards, while also supporting next generation AMD and NVIDIA discrete graphics options for higher graphics performance
---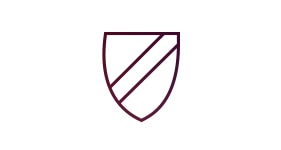 Secure
Because security starts with best-in class hardware, the OptiPlex desktops feature TPM 2.0 and a chassis intrusion switch. Add custom cable covers and a security lock to protect your investment. Plus, Dell Data Security offers comprehensive threat protection from end-to-end, so you can focus more on your work and spend less time worrying about your system.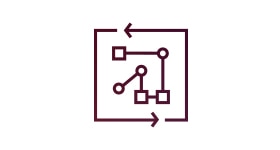 Manageable
The Dell Client Command Suite automates and streamlines system deployment, configuration, monitoring and updates and is free on all Dell commercial PCs.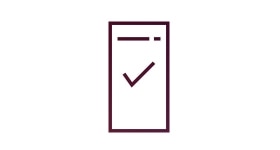 Reliable
Your system will withstand real world conditions thanks to a durable, built-to-last chassis that's undergone MIL-STD 810G testing. A toolless design allows for quick system access to easily upgrade and replace components like storage and memory, making your PC viable for years to come.
---
We've got your business covered
ProDeploy Client Suite: We help you deploy PCs with greater speed, less effort and more control. You will direct every detail of your deployment with our TechDirect portal that features an unprecedented level of control, automation and simplicity.
ProSupport: Let us make hardware and software support easy. ProSupport offers 24×7 access to in-region advanced technology experts who contact you when critical issues arise,* all so you can focus on the strategic work that moves your business ahead.
ProSupport Plus: With our most complete support service for PCs and tablets, you get all the capabilities of ProSupport with predictive failure prevention,* repair for drops, spills and surges and hard drive retention in the case of failure.*
---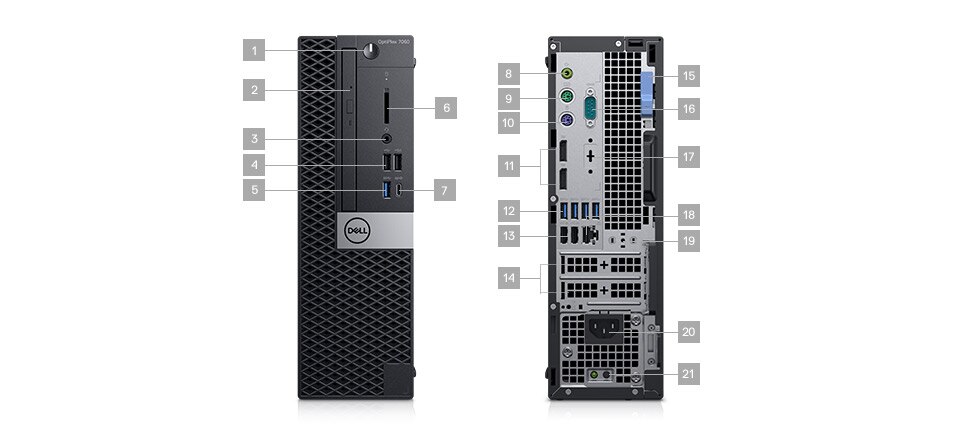 Ports & Slots – Small Form Factor
1. Power Button | 2. Optical Drive (Optional) | 3. Universal Audio Jack | 4. USB 2.0 Ports (2) (1 with Powershare) | 5. USB 3.1 Gen 1 Port | 6. SD Media Card Reader (Optional) | 7. USB 3.1 Gen 2 Type-C Port with Powershare | 8. Line-out | 9. PS/2 Keyboard Port | 10. PS/2 Mouse Port | 11. DisplayPorts (2) | 12. USB 3.1 Gen 1 Ports (4) | 13. USB 2.0 Gen 1 Ports (2) | 14. PCIe card Slots (2) | 15. Release Latch | 16. Serial Port | 17. Video Port (Optional) | 18. RJ-45 | 19. Knock-out Slots for Wireless Antennas | 20. Power Connection | 21. Power Supply Diagnostic Button
---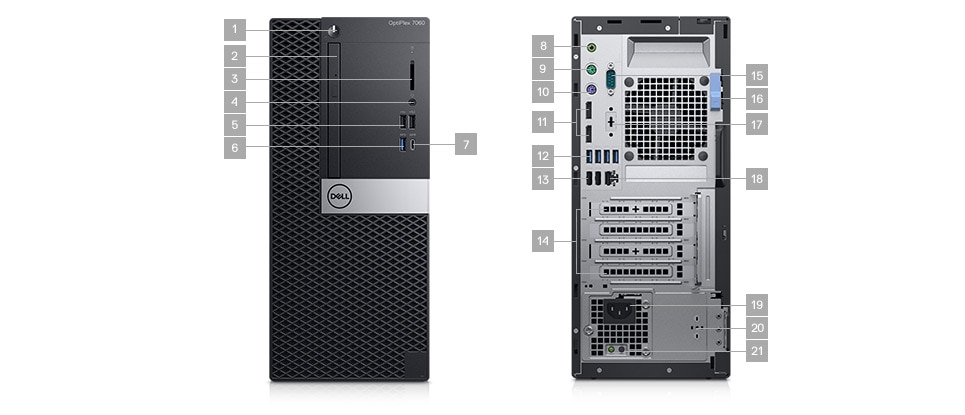 Ports & Slots – Tower
1. Power Button | 2. Optical Drive (Optional) | 3. SD Media Card Reader (Optional) | 4. Universal Audio Jack | 5. USB 2.0 Ports (2) (1 with PowerShare) | 6. USB 3.1 Gen 1 Port | 7. USB 3.1 Gen 2 Type-C Port with PowerShare | 8. Line-out | 9. PS/2 Keyboard Port | 10. PS/2 Mouse Port | 11. DisplayPorts (2) | 12. USB 3.1 Gen 1 Ports (4) | 13. USB 2.0 Gen 1 Ports (2) | 14. PCIe Card Slots (3) and PCI Slot | 15. Serial Port | 16. Release Latch | 17. Video Port (Optional) | 18. RJ-45 | 19. Power Connection | 20. Knock-out Slots for Wireless Antennas | 21. Power Supply Diagnostic Button
---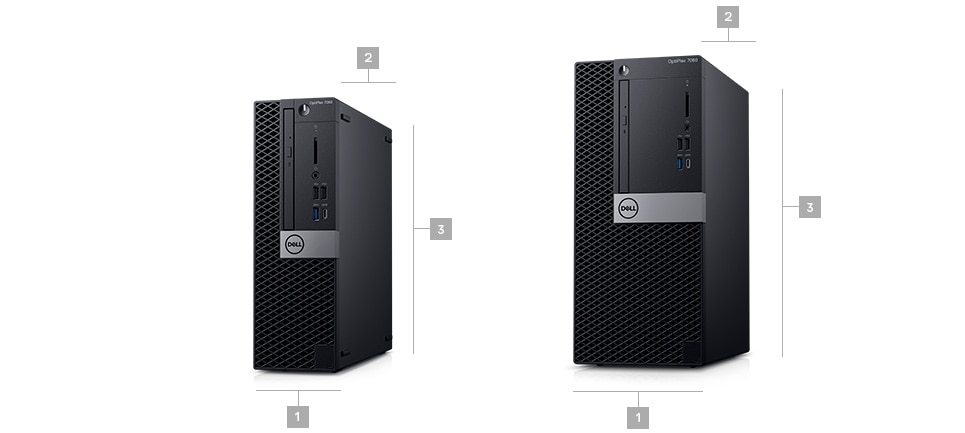 Dimensions & Weight
Small Form Factor: 1. Width 3.7″ (9.26cm) | 2. Depth 11.4″ (29.0cm) | 3. Height 11.5″ (29.2cm) | Minimum Weight 11.57lb (5.26kg)
Tower: 1. Width: 6.1″ (15.4cm) | 2. Depth 10.8″ (27.4cm) | 3. Height 13.8″ (35cm) | Minimum Weight 17.49lb (7.93kg)
DELL Jakarta – DELL Indonesia
Tags: DELL Optiplex 7060, DELL Optiplex 7060 Jakarta, DELL Optiplex 7060MT, DELl Optiplex 7060MT Jakarta
DELL Optiplex 7060MT i7-8700 8GB 2TB AMD RX 550 4GB LED 21.5 Windows 10 PRO
| | |
| --- | --- |
| Berat | 18000 gram |
| Kondisi | Baru |
| Dilihat | 920 kali |
| Diskusi | Belum ada komentar |